For the best fissure treatment in Bhuj, Gujarat, visit Akshar Hospital, a well-known Ayurveda Hospital specializing in diagnosing and treating all anorectal disorders, including fissures, piles, abscess, fistula, etc.
Akshar Hospital is known for result-oriented, precision Ayurvedic medical care. You can trust us to do everything we can in the best interest of your health.
Dr. Dipesh Thacker, one of the best Ayurvedic surgeon in Bhuj, Gujarat, founded Akshar hospital to provide world-class treatments at an affordable cost. The hospital is equipped with the latest medical equipment and sophisticated diagnostic tools.
At Akshar Hospital, we offer excellent ayurvedic fissure treatment in Bhuj, Gujarat, ensuring the prevention of recurrence and minimal side effects. We lay great emphasis on our patient's satisfaction, safety, and ethical medical practice.
Our skilled ayurvedic surgeon provides patients with high-quality, comprehensive treatment to alleviate pain and discomfort caused by acute or chronic anorectal diseases.
Our Doctor - Dr. Dipesh Thacker
Dr. Dipesh Thacker

BAMS, MS – (Ayurved), Masters in Proctology

Specialization: Anorectal diseases

Experience: 8 years
Dr. Dipesh Thacker is a highly experienced and dedicated Ayurvedic surgeon who is compassionate and patient-friendly. He specializes in treating a wide range of anorectal diseases, including fissure treatment in Bhuj.
He completed his Bachelor of Ayurvedic Medicine and Surgery from Gujarat Ayurved University, Jamnagar, and his Masters in Ayurved from Maharashtra University of Health Sciences, Nashik.
He further pursued his Master in Proctology from the Center for Excellence in Minimal Access Surgery Training (ceMAST), Mumbai.
He gained immense experience and in-depth training by handling acute and chronic cases of anorectal diseases at Sushrut Ayurved Academy, Nadiad.
At present, he practices at Akshar Hospital, which he established to provide high-quality, effective, and safe treatment that is on par with the best healthcare centres in the country. He plans personalized ayurvedic fissure treatment in Bhuj for each patient according to their individual needs.
Dr. Dipesh Thacker is one of the most preferred ayurvedic surgeon for fissure treatment in Bhuj, Kutch, Gujarat. He has won the trust of his patients through his hard work, accurate diagnosis, precise and best treatment options, and positive results.
Now let's understand what an anal fissure is?
Overview of Anal Fissure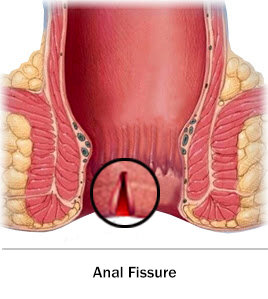 An anal fissure, also known as parikartika, is a linear tear in the anal skin called anoderm that can cause considerable discomfort and bleeding at the time of bowel movements. They can happen to people of any age group. Depending on how long they last, they are categorized as acute or chronic.
The treatment's purpose is to alleviate pain and suffering while also treating the torn tissue. Acute anal fissures are common, and if self-care is followed, they normally heal on their own. Chronic anal fissures, on the other hand, may require medication or surgery.
We at Akshar Hospital provide one of the best fissure treatment in Bhuj, Gujarat, based on your symptoms and severity.
What are the causes of anal fissures?
Anal fissures can occur due to any one or more of the following:
Chronic constipation
Straining to have a bowel movement
Prolonged diarrhea
Anal sex
Abdominal pressure
Straining during childbirth
Longstanding poor bowel habits
Overly tight anal sphincter muscles
Underlying medical problems like Crohn's disease, tuberculosis, ulcerative colitis, leukemia, anal cancer, HIV, etc.
Less blood flow to the anorectal region
Unhealthy diet
Excess alcohol consumption and smoking
Sedentary lifestyle
What are the signs and symptoms of anal fissures?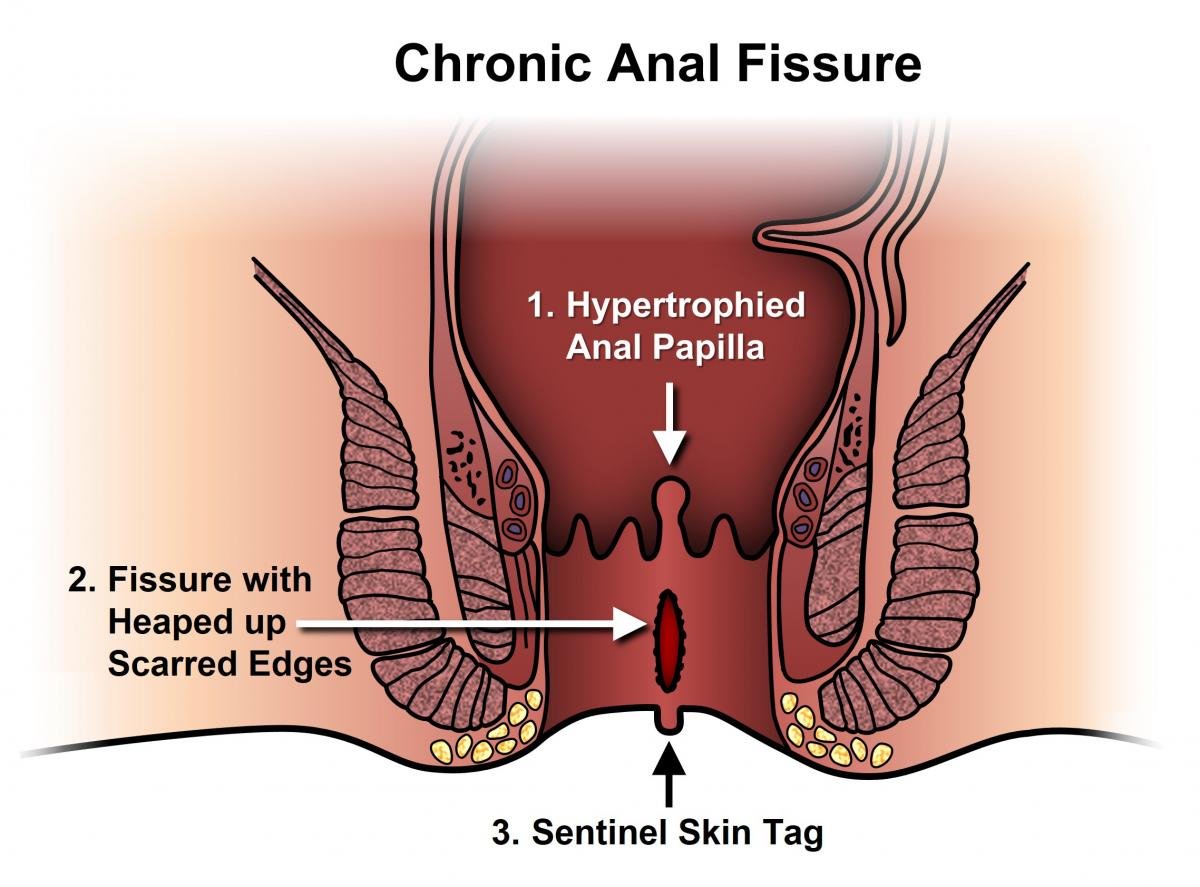 Burning pain
Pain during, and even hours after, a bowel movement
Blood sticking on the outside surface of the stool
Bleeding may increase drop by drop, and then more
Stinging and irritation in the anal area
Swelling
Spasm in the anal area
Discharge
A sentinel tag can form if a recurrent anal fissure is not treated properly.
Hypertrophied anal papillae may occur in chronic fissure.
How is an anal fissure diagnosed?
Dr. Dipesh Thacker will diagnose anal fissure by inspecting the area around the anus and conducting a rectal examination.
Anal fissure treatment in Bhuj
Dr. Dipesh Thacker is an expert in providing one of the best fissure treatment in Bhuj, Gujarat. He offers customized treatment and is well-versed in all treatment modalities, including fissurectomy,
sphincterotomy (open and closed), excision of sentinel tag, and cauterization of papillae.
He recommends internal medication that are naturally antibacterial, thereby being very effective and safe.
Further, he prescribes medicines that help regulate the frequency and consistency of the stools and encourage tissue healing.
If the anal fissure fails to respond to medications, Dr. Dipesh Thacker, an experienced Ayurvedic surgeon in Bhuj, Gujarat, may recommend surgery.
He may perform Agnikarma (thermal cauterization) and ksharsutra ligation to remove sentinel tags in a chronic fissure. Sphincterotomy may also be conducted to reduce anal ring spasms.
What are the complications of anal fissures?
Anal fissure that does not heal for more than eight weeks is termed as chronic.
Tuberculosis, cancer, leukemia, ulcerative colitis, Crohn's disease, HIV, and syphilis can cause anorectal fissures to become infected, resulting in an anorectal abscess that can be life-threatening.
Why choose Akshar Hospital for anal fissure treatment in Bhuj?
Our state-of-the-art hospital is considered one of the best centres for all anorectal disorders, especially piles, fistulas, and fissure treatment in Bhuj, Kutch, Gujarat.
It is fitted with the latest surgical and diagnostic equipment that aids in achieving exceptional results. We provide a private recovery room to each patient.
Our founder and esteemed Ayurvedic surgeon, Dr. Dipesh Thacker, is an outstanding doctor having years of experience and skills in treating a range of anorectal disorders. He is proficient in all treatment modalities and is counted among the leading Ayurvedic surgeon in Bhuj, Kutch, Gujarat.
The fissure treatment cost in Bhuj at our hospital is highly economical compared to other hospitals in the city.
Our modern hospital is equipped with 24-hour video surveillance, and a backup power supply and water supply. Everyone has access to free Wi-Fi and can pay via digital and wallet payment methods.