Akshar Hospital is a leading Ayurveda Hospital in Bhuj, Kutch, Gujarat, that provides high-quality, safe, reliable, and affordable treatments to people from all strata of society. We are renowned for offering the best piles treatment in Bhuj.
Dr. Dipesh Thacker founded the hospital to promote patient care using Ayurvedic medicine, one of the oldest and traditional medical systems. We specialize in managing and treating acute and chronic Anorectal diseases like Piles, Fissure in Ano, Fistula in Ano, Abscess, etc. At Akshar Hospital, we focus on offering comprehensive and effective healthcare services using holistic healing systems along with researched treatment protocols.
Our state-of-the-art hospital is fitted with the latest diagnostic tools, cutting-edge technology, and medical equipment to help us deliver outstanding results with minimum side effects and recurrence. We follow the highest standards in ethics and transparency in medical practice.
We are very particular in the matter of hygiene and sanitation. Our patients' satisfaction and safety are of utmost importance to us. We have built a loyal patient base through the years, which is a testament to our popularity. Most of our patients have visited us through referrals. This proves their trust in our treatment, and we take immense pride in it.
Akshar Hospital is the most sought-after healthcare facility for piles treatment in Bhuj, Kutch, Gujarat. Our doctor has successfully treated many patients and is an expert in all treatment modalities including, kshara treatment, cryotherapy, haemorrhoidectomy, rubber band ligation, etc.
Know Your Doctor - Dr. Dipesh Thacker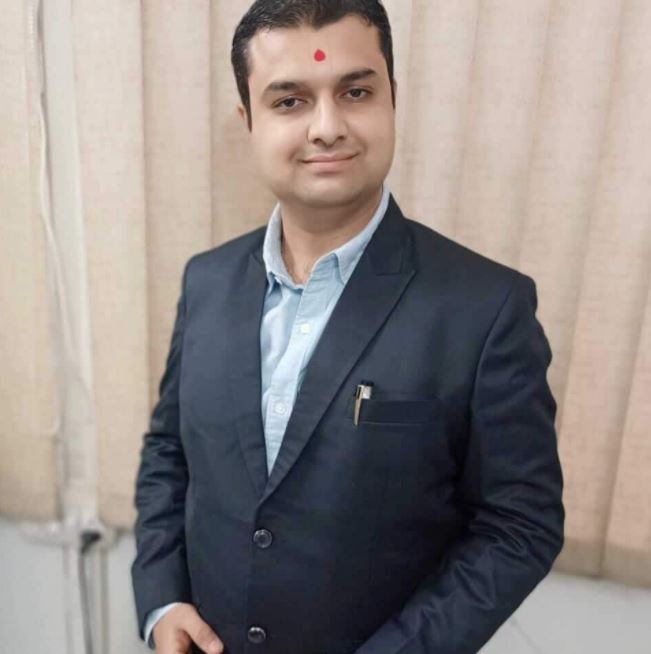 Dr. Dipesh Thacker has vast experience in Ayurvedic medicine and surgery and has successfully treated many patients. He is one of the most preferred doctors for piles treatment in Bhuj, Kutch, Gujarat.
After completing his Bachelor of Ayurvedic Medicine and Surgery from Gujarat Ayurved University, Jamnagar, he pursued Masters in Ayurved from Maharashtra University of Health Sciences, Nashik. He also did his Master in Proctology from the Center for Excellence in Minimal Access Surgery Training (ceMAST), Mumbai.
Dr. Dipesh Thacker received extensive training and experience at Sushrut Ayurved Academy Nadiad, where he dealt in cases of both acute and chronic anorectal illnesses. He also gained experience in digestive tract disorders during his Post-Graduation Studies.
He currently practices at Akshar Hospital, which he established to serve people and provide them with the best piles treatment in Bhuj, Kutch, Gujarat. He curates a customized treatment plan for each patient that is tailored according to their specific needs.
Dr. Dipesh Thacker continually strives hard to keep himself abreast with the latest medical science advancement and improve and enhance patient care. He is a registered member of the Gujarat Board of Ayurved & Unani System of Medicine in India.
His article regarding 'Hemorrhoids – patho-physiology and classification – an analytical approach with special reference to Arshas' was published in Ayurlog, National Journal of Research in Ayurved Science.
Apart from this, he has given several lectures and attended many conferences all over India. Further, he has been featured on the talk show on All India Radio. Social service is very close to his heart, and he attends camps to help people in rural areas.
Piles (Hemorrhoids)
Piles, also known as Arsha, are symptomatic anal cushions that can develop into a pathological state and cause anal bleeding, prolapse, inflammation, and thrombosis.
Everyone has anal cushions, but everyone does not have hemorrhoids. Anal cushions are anatomical structures consisting of blood vessels, smooth muscle, and elastic connective tissue in the submucosa. When there is a disruption in the smooth muscle and the intermingled elastic fibers, it causes prolapse, sliding of the anal cushions.
What are the types of piles?
Piles are classified into internal and external hemorrhoids. The anal canal has a dentate line that divides two forms of anal tissue.
Internal hemorrhoids
Internal hemorrhoids are primarily painless as they occur above the dentate line. You mostly cannot feel or see them. However, irritation or straining at the time of bowel movements can cause painless bleeding or prolapse.
Stages of internal hemorrhoids:
1st degree: Remaining inside the anal canal
2nd degree: Protruding during bowel movements and reducing spontaneously.
3rd degree: Manual repositioning is required
4th degree: Hemorrhoids that remain prolapsed outside
External hemorrhoids
External hemorrhoids occur below the dentate line. They are located under the skin and can become discomforting when the blood in the hemorrhoidal plexus clots and swelling irritates the surrounding pain-sensitive skin.
Symptoms of external hemorrhoids:
Swelling around your anus
Throbbing pain
What are the causes of piles?
The main cause of piles is abnormal defecation. However, some other causes involve:
Long periods of sitting can trigger the hemorrhoidal process.
Wrong sitting position during stool passing can also lead to piles.
Constipation or diarrhea can cause increased straining during bowel movements, which can lead to piles.
Obesity may play a role as it puts too much strain on the hemorrhoidal plexus by poor muscle tone or poor posture.
Piles are often associated with pregnancy due to internal bearing forces and pressure caused during normal vaginal delivery. Also, during pregnancy, women tend to take iron and calcium supplements, which can cause constipation leading to piles.
Smoking cigarettes during bowel movements may aggravate piles and cause severe internal bleeding of veins in the anus.
Any activity on which abdominal pressure is increased leads to hemorrhoid, involving excessive squatting, weight lifting, physical exercise, rope skipping.
What are the symptoms of piles?
Pure Piles/ Hemorrhoids are always painless. When it is associated with other conditions like Thrombosis / Haematoma means blood clot, then it can give pain. Symptoms of piles may involve:
Bleeding from the anus during bowel movements. Initially, it is drop by drop, but it can increase in quantity and reach up to sputter or jet-like flow
Prolapse
Itching around the anal opening
What are the treatments for piles?
Dr. Dipesh Thacker, a renowned and highly experienced surgeon, is known to provide one of the best piles treatment in Bhuj, Kutch, Gujarat. Depending on the severity and general health, he will recommend the right treatment option that will be beneficial for you. He is an expert in the following modalities for the piles treatment in Bhuj:
Kshara Treatment
It is an Ayurvedic non-surgical technique for the treatment of piles. With the aid of a special slit proctoscope, a medication (alkaline in nature) extracted from a mixture of different herbs is applied to the pile mass. It is a form of chemical cauterization. Kshara is the preferable ayurvedic piles treatment in Bhuj. It is considered the best approach to treat piles.
Excision of Piles and Ligation of Sutra
In this procedure, the haemorrhoidal tissue is excised (cut) by tying a ligature at the root. It will stop the blood flow to the vein allowing the piles to shrink. It will shrivel and fall off within 10 to 15 days. After all treatments have failed, the doctor will recommend this ayurvedic piles treatment in Bhuj, Kutch, Gujarat.
Laser Haemarrhoidopaxy (Laser Piles Treatment)
Many people opt for laser piles treatment in Bhuj. For Grade 2 and early stages of Grade 3 Piles, laser haemarrhoidopaxy is the preferred treatment. This treatment takes around 20 minutes and is done under local anesthesia. A special radially emitting fiber is used to apply laser energy through the natural anal opening. The controlled emission of laser energy causes the vaporization of the haemorrhoidal mass. The cost of laser piles treatment in Bhuj is expensive than other procedures.
Minimal Invasive Procedure for Hemorrhoids (MIPH) – Stapler Method
MIPH has become the treatment of choice for grade 3 and 4 prolapsed piles treatment in Bhuj, Kutch, Gujarat. The operation usually takes 25-30 minutes and is performed under spinal or general anesthesia. The mucosa that causes hemorrhoids to prolapse is circumferentially excised with a circular stapler, and the prolapsed hemorrhoids are pulled up to their usual place. The MIPH procedure is expensive than other treatment modalities.
Hemorrhoidectomy
Hemorrhoidectomy is a procedure that removes piles from the body. You will be given local anesthesia to prevent you from feeling pain. The doctor will make incisions in the tissues around the piles. Before extracting the piles, the swollen vein will be tied to avoid bleeding. The doctor will stitch the surgical area shut or leave it open.
Recovery after piles treatment
Piles treatment is an outpatient surgery at our hospital where the patient comes in by 9 am and is discharged by 2 pm. The patient is fully awake during the procedure as it is performed under local anesthesia.
After the procedure, the patient can immediately walk by themselves and go to the recovery room. The patients will have to rest on the day of surgery and move in the periphery from the next day. They can resume their regular routine from the 3rd or 4th day. Regarding diet, you will have to be on a liquid diet for the whole day of the surgery and resume having solid food from the second day itself.
Why choose Akshar Hospital for piles treatment in Bhuj, Gujarat?
Most importantly, Dr. Dipesh Thacker is a surgeon par excellence for piles treatment in Bhuj, Kutch, Gujarat. In his distinguished career, he has successfully performed many surgeries using different modalities. He is an expert in ayurvedic piles treatment in Bhuj as well as other surgical procedures.
Akshar Hospital is a modern healthcare centre having the latest diagnostic and surgical equipment that helps achieve outstanding results.
We have the expertise in treating all types of piles with minimum side effects and recurrence rates at our hospital.
Our state-of-the-art hospital is fitted with CCTV surveillance, has a 24/7 water supply and electricity back-up. There is free WIFI for all.
Each patient is provided with a private recovery room and can make the payment with digital and wallet payment options.
Further, the piles treatment cost in Bhuj at our clinic is the most affordable. At Akshar Hospital, we charge the least cost as compared to other clinics in the whole city. However, be assured, low cost in no way implies sub-standard treatments.